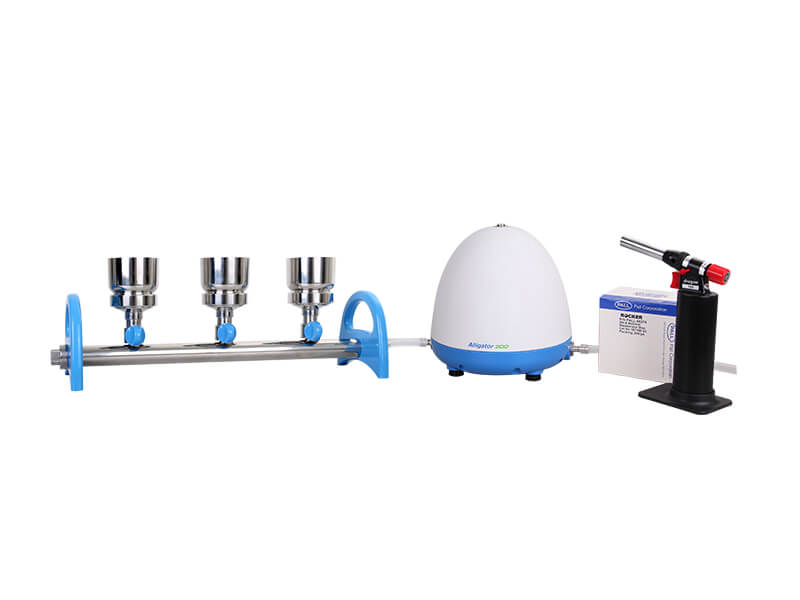 MultiVac 301-MB-AMulti-Branch Filtration system
◆ For microbiological filtration
◆ Time-saving and space-saving
◆ Quick-assembly and disassembly
◆ Innovative vent valve design
◆ Quick-Fit hose barb
◆ CE certification
Instruction

Specification

Download
Multi-Branch Manifold System Features:
◆ For microbiological filtration
MultiVac 301-MB-A are designed for a large number of samples in microbiological test. Each system includes Alligator 200 diaphragm liquid pump, manifold, burner, stainless steel funnels and MCE membrane.
◆ Time-saving and space-saving
The vacuum source has built in a liquid pump which can be connected directly to manifold without waste bottle. Save 40% bench space and simplify filtration process.
◆ Quick-assembly and disassembly
Each component of manifold can be easily removed for cleaning and autoclaving. All wetted parts of manifold are made of SS316 stainless steel, which can be fast sterilized by flame.
◆ Innovative vent valve design
An adjustable vent valve integrated with the pipe can eliminate water hammer phenomenon and help drain out residual waste water.
◆ Quick-Fit hose barb
Detachable hose barb can be connected to either side of the manifold quickly towards the vacuum source.
Multi-Branch Manifold System Videos:
Multi-Branch Manifold System International Certificates :
◆ CE certification
◆ IP 64 protection (Alligator 200)
◆ RoHS certification (Alligator 200)
Multi-Branch Manifold System Applications :
◆ Suspended solid test for water monitoring
◆ Microbiological test by Membrane Filter Technique
◆ General filtration without collecting filtrate
Multi-Branch Manifold System Ordering Information :
Product Part Number
Product
◆ 180301-01(02)-A
MultiVac 301-MB-A, Vacuum Filtration System, complete set includes :
* Alligator 200, Diaphragm Liquid Pump
* MultiVac 300-MB, 3 Places Stainless Steel Manifold
* SF, 100 ml Stainless Steel Funnel (3 pcs)
* Dragon 100, Torch Burner
* MCE Membrane, 47 mm, 0.45 μm, 200/PK
* Silicone Tube (2 pcs)
Multi-Branch Manifold System Ordering Information (Optional) :
| | |
| --- | --- |
| Product Part Number | Product |
| ◆ 180100-01 | SF, 100 ml Stainless Steel Funnel |
| ◆ 180100-03 | SF, 300 ml Stainless Steel Funnel |
| ◆ 180100-05 | SF, 500 ml Stainless Steel Funnel |
MultiVac301-MB-A complete system includes :
* Alligator 200, Diaphragm Liquid Pump
* MultiVac 300-MB, 3 Places Stainless Steel Manifold
* SF, 100 ml stainless steel funnel (3 pcs)
* Dragon 100, Torch Burner
* MCE Membrane, 47 mm, 0.45 μm, 200/PK
* Silicone Tube (2 pcs)
Alligator 200, Diaphragm Liquid Pump
Specification
◆ Power:DC24V, 1.8A
◆ Max. vacuum:313 mbar
◆ Max. liquid flow rate:4.5 L/min
◆ Motor:60W Brushless DC Motor
◆ Hose barb:ID8 (5/16 inch)
◆ Material contact with filtrate:SS316, FKM, Silicone, PP, PPS
MultiVac 301-MB, 3 Places Stainless Steel Manifold with Rocker SF funnel adaptor, 100 ml SF funnel x 3
Specification
◆ Number of branch:3
◆ Funnel:SF stainless steel funnel, 100 ml x 3
◆ Filter diameter: 47 mm
◆ Material contact with filtrate:SS316