Instruction

Specification

Download
WaterVac Filtration System Features:
◆ Save time
A built-in liquid pump can transfer filtered liquid directly to waste, save time by simplifying filtration process.
◆ Save 70% bench space
Integrates liquid pump and filter holder into an instrument, no need of waste bottle and connecting tubing which is necessary for traditional air pump.
◆ Compliance with ISO 8199
WaterVac 200 complies with ISO 8199 regulation and ideal for microbiological sample filtration.(*ISO8199: Water quality – General guidance for microbiological examinations by culture)
◆ Versatile
Replaceable funnel adaptor makes it compatible with various kinds of filter holders.
WaterVac Filtration System Videos:
WaterVac Filtration System International Certificates: 
◆ CE certification
◆ IP 41 protection class
◆ RoHS certification
WaterVac Filtration System Applications: 
◆ Microbiological test by Membrane Filter Technique
◆ Suspended solid test for water monitoring
◆ General filtration without collecting filtrate
WaterVac Filtration System Ordering lnformation:
We can offer customized adaptor for your funnel. With Combination A/B/ C, find your customized design.
Combination A
Step 1. Choose the manifold
Step 2. Choose the SF funnel

WaterVac 200 – MB

(190220-01)US-plug

(190220-02)EU-plug

 

Rocker, 100 ml SF Stainless Steel Funnel (180100-01)

Rocker, 300 ml SF Stainless Steel Funnel (180100-03)

Rocker, 500 ml SF Stainless Steel Funnel (180100-05)

Stainless Steel Cover for SF 100 ml funnel (180100-11)

Stainless Steel Cover for SF 300 ml / 500 ml funnel (180100-13)
Combination B
Step 1. Choose the manifold
Step 2. Choose the filter holder

WaterVac 200 – MS

(190210-01)US-plug

(190210-02)EU-plug

Rocker, 300 ml MF 3, Magnetic Filter Holder
(200300-01)

Rocker, 500 ml MF 5, Magnetic Filter Holder
(200500-01)
Combination C
Step 1. Choose the manifold
Step 2. Choose the disposable funnel and adaptor

WaterVac 200
(190200-01)US-plug

(190200-02)EU-plug

 

Sartorius, 100 ml / 250 ml Microsart® disposable plastic funnel
(16A07–10——N/ 16A07–25——N)

SS316 Adaptor for Sartorius disposable plastic funnel
(190100-74)

Millipore, 100 ml / 250 ml Microfil® disposable plastic funnel
(MIHAWG100 / MIHAWG250)

SS316 Adaptor for Millipore disposable plastic funnel
(190100-73)

Pall, 100 ml / 250 ml Sentino® disposable plastic funnel
(4870 / 4871)

SS316 Adaptor for Pall disposable plastic funnel
(190200-20)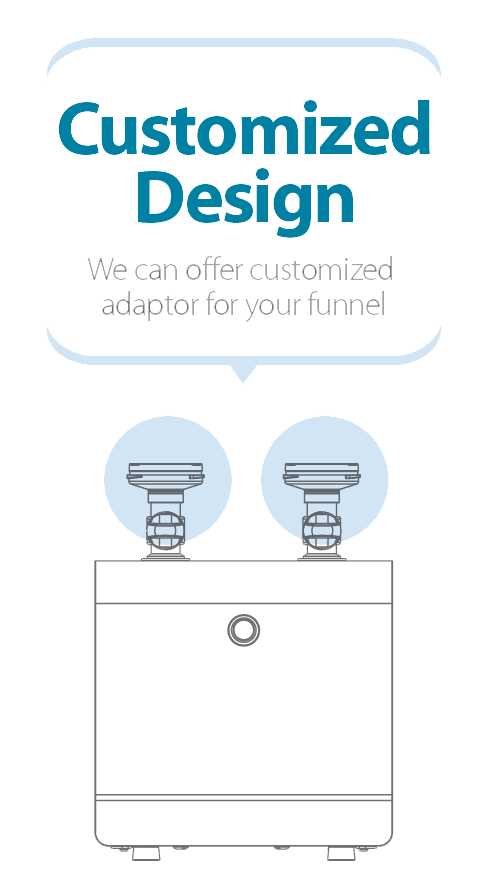 Product Part Number
Product

◆ 190220-01

◆ 190220-02

WaterVac 200-MB, Vacuum Filtration System
with Rocker SF Funnel Adaptor, AC100-240V Adaptor, US Plug 

WaterVac 200-MB, Vacuum Filtration System
with Rocker SF Funnel Adaptor, AC100-240V Adaptor, EU Plug

◆ 190221-01

◆ 190221-02

WaterVac 201-MB, Vacuum Filtration System
with Rocker SF Funnel Adaptor, 100 ml SF Funnel, AC100-240V Adaptor, US Plug

WaterVac 201-MB, Vacuum Filtration System
with Rocker SF Funnel Adaptor, 100 ml SF Funnel, AC100-240V Adaptor, EU Plug

◆ 180100-01
SF, 100 ml Stainless Steel Funnel
◆ 180100-03
SF, 300 ml Stainless Steel Funnel
◆ 180100-05
SF, 500 ml Stainless Steel Funnel
◆ 180100-11
Stainless Steel Cover for SF 100 ml funnel
◆ 180100-13
Stainless Steel Cover for SF 300 / 500 ml funnel
WaterVac200 – MB
Specification
◆ Power : DC24V, 1.8A
◆ Max. vacuum : 313 mbar
◆ Max. liquid flow rate : 4.5 L/min
◆ Motor : 60W Brushless DC Motor
◆ Noise level : 60 dB
◆ Hose barb : ID8 (5/16 inch)
◆ Adaptor : Spin-Lock
◆ Material contact with filtrate : Stainless steel, FKM, Silicone, PP, PPS